ABOUT PLISSON
SINCE 1808
Founded in 1808 by Georges Plisson, the factory of shaving brushes Plisson quickly gained a significant reputation.

Plisson became the official supplier of the Emperor Napoleon.

Since the nineteenth century, Plisson is the reference to the greatest of this world. King Hassan II , Farouk of Egypt, the Emir of Qatar, Jean Marais , Charles De Gaulle and even Pope Pius XI were among the followers of the brand.

"There are shaving brushes and there are Plisson" say professionals of shaving. For more than 200 years, Plisson is the golden standard in shaving brushes and a recognized expert in the world of shaving.

Today the shaving brushes Plisson are still handmade in the great tradition of artisans of luxury.

The bristles are first gathered together in a clump and then hand shaped to form the bouquet. Once tied, it is stuck on his mount. Ultimate toilet can give it volume. The brush is finally ready.
RITUAL OBJECTS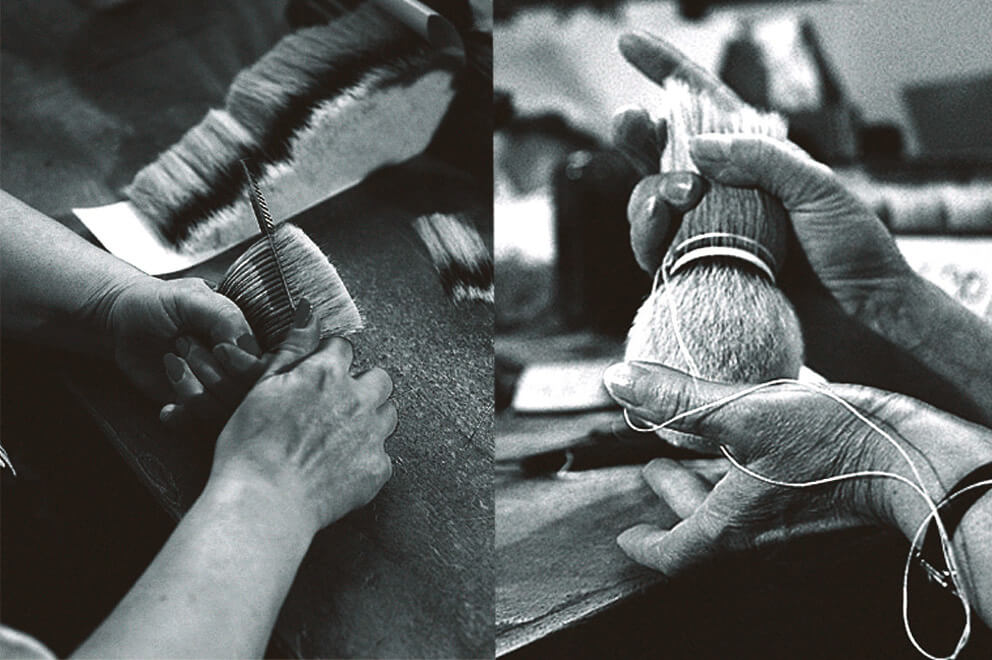 Since 1808 Plisson has been handcrafting shaving brushes, all from Genuine badger hair. The end of the hair is not cut during the process, "its natural flower" is preserved.

The badger hair has the particularity to repel water. Thus, even when wet, it retains its softness and spring. Combined with soap, it participates actively in the hydration of the skin. The quality of the brush depends on the source and the elasticity of the hair.

Designed to provide the best service, Plisson shaving brush requires special care of which will depend its lifespan .

Plisson razors are manufactured with the same concern for quality as the shaving brushes. Their weight and their forms are designed to ensure the ease of use and outstanding accuracy.

They receive the best blades available on the market. Elegant and functional, the shaving bowl in brass & Porcelain is also a beautiful traditional object.

Essential accessory, the holder for Plisson shaving brush, allows you to dry your brush in the best conditions..