Hairbrushes: the essentials to adopt urgently
Men and women with long or medium-length hair cannot do without them in their daily lives. From ancient Egypt to today, the hairbrush has come a long way. However, it continues to reinvent itself, while remaining in some respects anchored in tradition. Let's take a look at this essential beauty accessory.
Why is brushing your hair beneficial?
Daily styling of the hair not only helps to remove unwanted knots. It also helps to :
Deeply nourish the roots, by stimulating blood microcirculation in the scalp;
Eliminate impurities (dust, pollution...) accumulated throughout the day.
Brushing is to the hair what removing make-up is to the skin!
Note: the right way to brush your hair
It is customary to brush from the roots to the ends. However, this is not the best technique to preserve your hair, especially if it tends to tangle easily. It is better to start at the tips and work your way up until you can brush the entire length without any problems.
The Plisson 1808 hairbrush range
As a world specialist in shaving products, Plisson 1808 is committed to offering you a varied range of accessories and care products that are 100% made in France and handcrafted, for a beauty ritual that is both complete and carbon neutral. Developing brushes to allow you to take care of your hair was a natural choice. As usual, we focus on naturalness and quality.
Brush handles: wood, a sustainable and ecological material par excellence
Our brushes are made of, depending on the model:
A handle injected in ABS, a resilient plastic, resistant to heat and humidity - they are also more accessible;
A handle made of precious wood, finished by hand.
Wood is valued both for its durability and its naturalness. The ecological impact is thus measured. An exceptional wood with heat-resistant and rot-proof properties (naturally resistant to moisture and mould).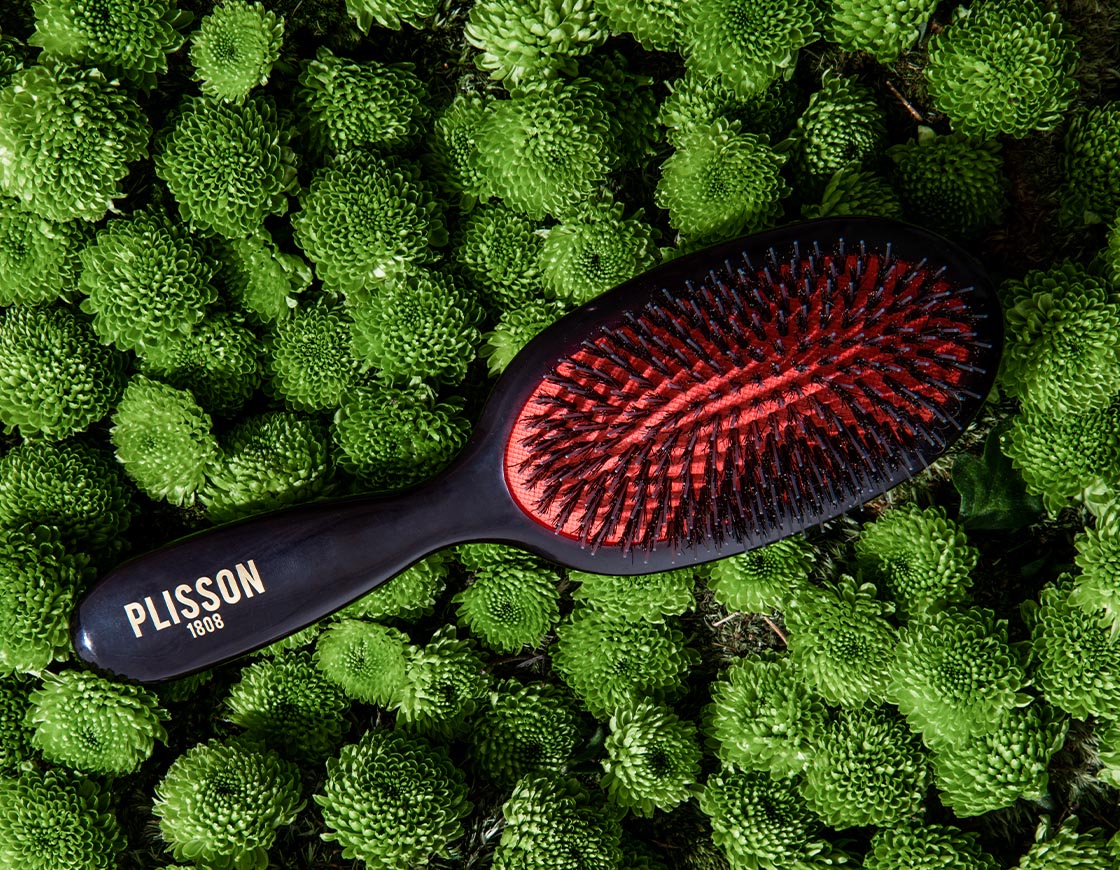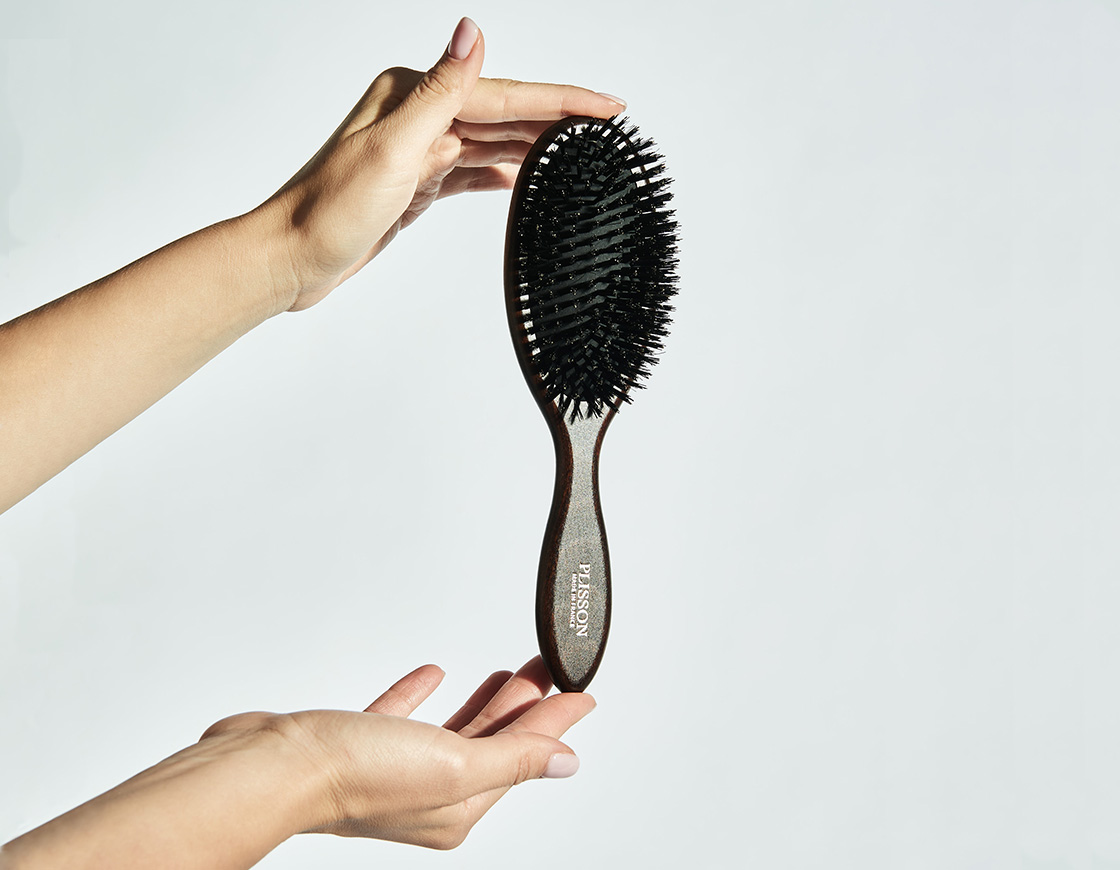 Bristles: 3 materials with common qualities
Small, medium or large, our hairbrushes are made of :
100 % natural white boar bristle ;
100% pure black boar bristles;
Half boar, half nylon (spikes).
Quality bristles, taken from the root for deep brushing. In addition to being durable, these materials also have anti-static properties. So the pleasure of brushing is not impaired in any way.
The pneumatic cushion, to respect your hair to the end
This type of brush, also known as an "air cushion" brush, has the advantage of detangling the hair efficiently, while absorbing friction with each stroke. Detangling is therefore gentle, without damaging either the scalp or the hair fibre. This is why we have chosen this mechanism for all our brushes.
Which brush should I choose according to my hair texture?
Not all hair has the same needs. Each hair has its own dedicated brush!
Very fine to fine hair: silk is your best friend
Fine hair is also the most fragile. It therefore deserves the utmost attention when brushing. The natural boar bristle brush is softer than pure black boar bristle and is best suited for your delicate hair. 
Medium thickness hair: boar hair, tested and approved
The boar bristle brush is perfect for this type of hair. Even if your hair is curly - naturally or after a curl treatment - your beautiful mane will not bend! The bristles are both firm for good detangling, but soft enough not to break your curls.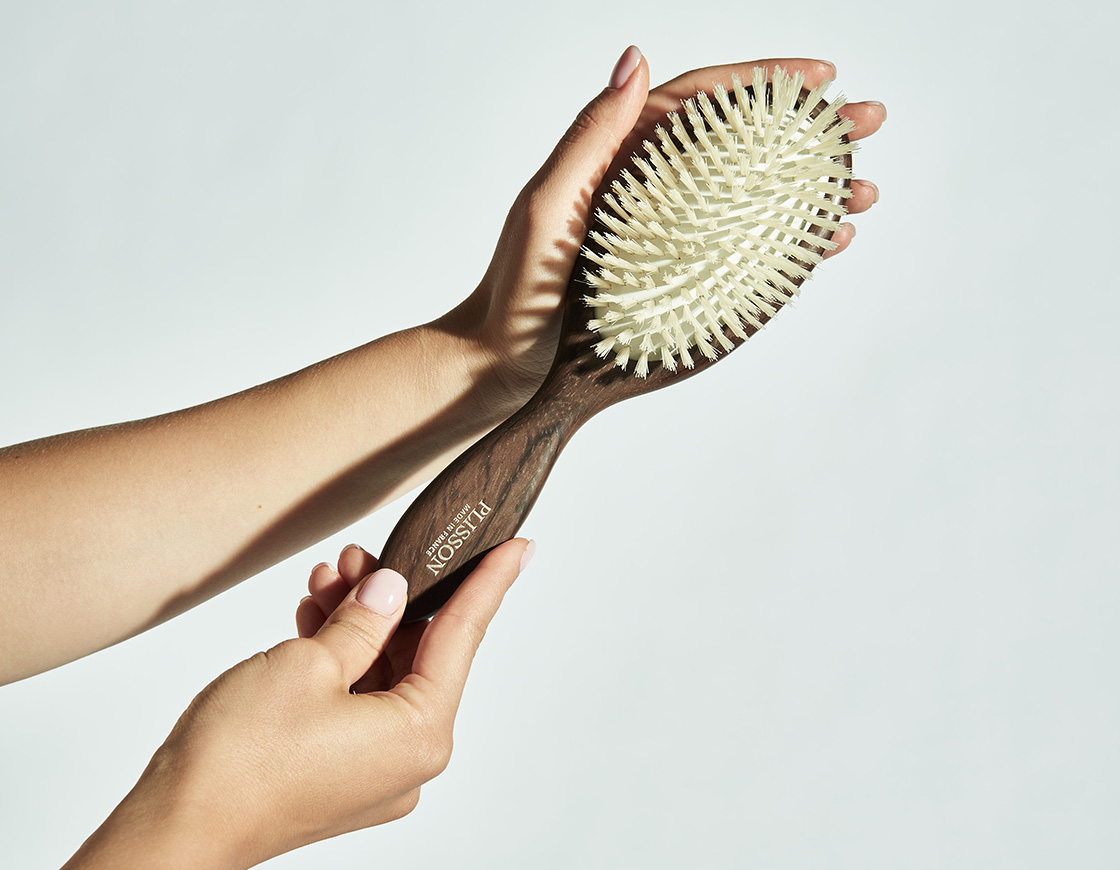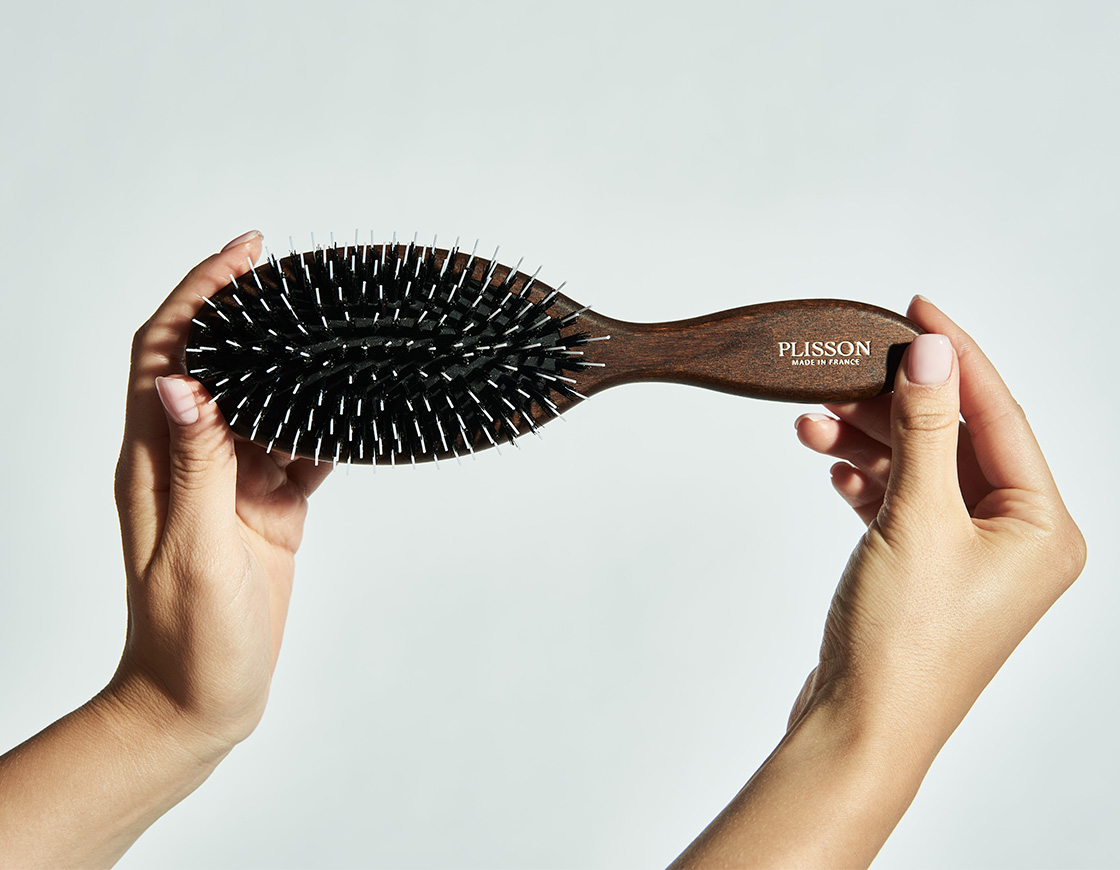 Thick to very thick hair or very tangled hair: the unstoppable boar/nylon bean duo
For a better grip on your dense and resistant hair, nothing beats a boar bristle brush enriched with nylon spikes. You'll tame it with ease! 
Our black injected brushes are particularly suitable for effective and painless detangling of your own hair and that of your children.
Multi-faceted brushes: the must-have for women who want to look their best
The Plisson 1808 boar bristle brushes with their ergonomic faceted wooden handles are also a hit with style-conscious women. 10, 12, 14 or 18 rows: adapt the size of your brush to the texture of your hair and the desired effect to say goodbye to frizz, rough fringes or unruly curls!
All you have to do is make your choice! In addition to a good hairbrush or blow-dryer, don't forget the essential hair care products: conditioner, mask, serum, heat-protecting balm, etc. In cosmetics, too, the products are more natural.