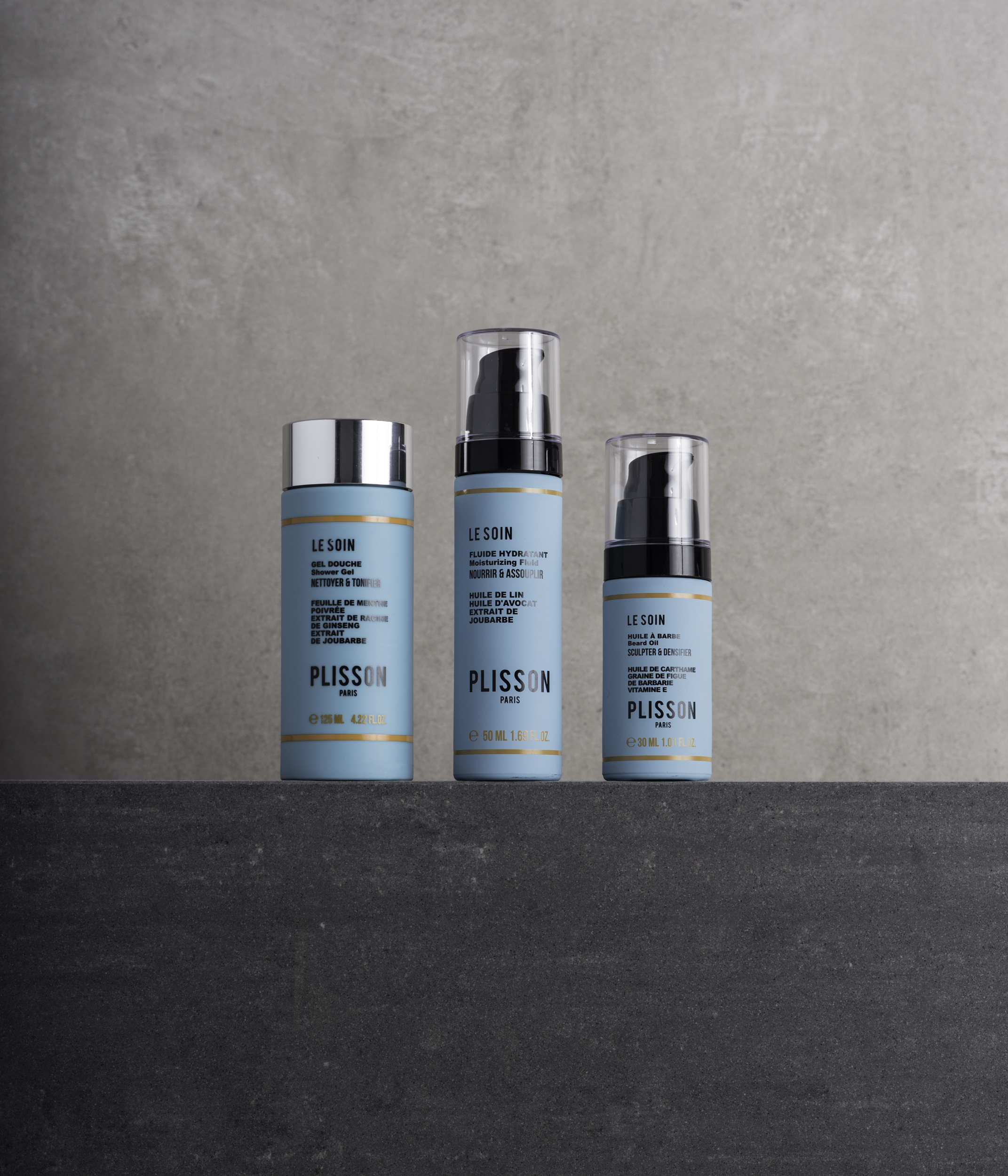 Beauty, considered for a long time as a luxury exclusively reserved for women, has recently been revalued by men who are becoming aware that taking care of themselves is a necessity that should be considered. This is one reason why Plisson has started this new adventure, with the aim of helping men to regain power over their beauty and assert their masculinity. 
Le Soin by Plisson, a revolution for your skin
Le Soin is more than a range of natural cosmetics. Le Soin is you. Specially designed for the male epidermis, this range accompanies men in their search for independence and self-expression. 
Discover our selection of products sourced with at least 95% of natural ingredients: Joubarbe, Ginseng extract, Volcanic Silica or Prickly Pear, to help you take back control of your skin. Each ingredient has been carefully selected for its nutritive, protective and regenerating qualities, to offer you a concentrate of benefits that is still unequalled.
Our selection for a daily care routine
With the range Le Soin by Plisson, create your own natural, effective and skin-friendly daily routine that gently revitalises and awakens. Discover our selection to help you to use the appropriate products and thus improve your routine. 
1. Purification of the skin
Nothing better than an Energising Face Scrub with natural extracts of Joubarbe, Jojoba and Volcanic Silica to unclog and regenerate your skin's pores. Sourced with over 97% natural ingredients, this scrub brings softness, tone and vitality to your face, which is deeply matified and purified with each use.
However, be careful with excess: moderate use is recommended, at least once or twice a week on wet skin, to avoid weakening the skin.
The Daily Facial Cleanser remains an essential part of your daily routine. Its formula enriched with Vitamin E, Thyme leaves and Prickly Pear seeds provides intense hydration to your skin, which regenerates over time. Use it daily, morning or evening, to gently cleanse your face thanks to its 99% natural active ingredients. 
For a more complete cleansing, combine the action of the Face Cleanser with that of the 3-in-1 Shower Gel, body, hair and beard, whose formula combines the benefits of Ginkgo Biloba, Ginseng and Joubarbe, for an intense sensation of relaxation and freshness. Your body and hair are regenerated with each use and instantly regain tone, softness and vitality. 
Skin preparation is a key step in traditional shaving which requires the use of natural, skin-friendly products. Use our Shaving Soap or Shaving Cream if you have sensitive skin to give it the protection and hydration it needs and limit the risk of irritation. 
Our products are sourced with 99% natural ingredients, specifically selected for their moisturising and soothing properties, to give you an unparalleled shaving experience.  
Apply your lather with one of our shaving brushes to exfoliate the skin, soften and straighten the hair of your beard and thus facilitate the passage of the blade. Shave preferably in the morning, after showering, to obtain an optimal result.  
The skin is subject to many external agents that tend to dry it out, so it's important to provide enough moisture every day, especially after shaving. We know that every skin is different, so we've developed a number of moisturising creams that you can use daily to soothe shaving irritation or as a basic daily moisturiser. 
The fresh, light texture of our Aftershave Balm is quickly absorbed by the skin, which is instantly soothed and moisturised by the combination of Wild Pansy, Joubarbe and Aloe Vera. Apply to freshly shaved areas as often as you like. All the ingredients in the formula have been carefully selected to give you unparalleled comfort and moisture after shaving. 
Made with at least 98% natural ingredients, our Moisturizing Fluid restores softness, elasticity and comfort to your skin thanks to the moisturizing, nourishing and protective properties of Joubarbe, Linseed Oil and Avocado. Apply a dab of cream to a clean, dry face, morning and night, to give your skin the protection it deserves. Let yourself be seduced by the soft and light texture that this fluid leaves on your face. 
Prevent the effects of skin aging with our Anti-Aging Cream. Enriched with natural hyaluronic acid and Rhodella Violacea Algae, this revitalising cocktail considerably improves the elasticity of the skin, giving it a new youthfulness. 99% natural ingredients to plump, tone and moisturise the skin in depth.
5. Gentleness and discipline
Whether it's a symbol of authenticity, wisdom or sex appeal, the beard needs to be cared for like the rest of your body. This is why we have developed an elixir enriched with vitamin E and sourced with 99% natural ingredients, to moisturise, soften and densify the hair of your beard. Our Beard Oil should be used daily, after your shower, on clean, dry hair. Put a few drops in your hands, rub the oil and apply it to all the hairs, from the roots to the tips. 
We recommend using one of our boar bristle beard brushes to discipline your hair, stimulate growth and distribute the oil evenly. 
Whether you are an expert in skincare routines or a novice, give your body a new lease on life with our selection.