Essential Shaving Brush Pure Black - 5 colours
Product available with different options
Shaving brush with a shiny black fine resin handle. Filled with pure black badger hair. Available in a unique size - 10. Delivered with its plexi-cristal holder, for a "head down" storage. Other colors available. Made in France.
Beautiful shaving brush in size 10, with a the original shape and shiny dyed fine resin handle, very resistant and pleasant to the touch. The traditional shape of the handle provides a pleasant and ergonomic grip. Filled with pure black badger hair, firm and durable, well suited and adapted even to the hardest beards. This brush comes with its transparent plexi-crystal stand, essential for proper storage. Made in France.
Instructions for use
---
The best moment to shave is in the morning, just after a shower and before breakfast: your hair, consisting mainly of keratin, are softer and easier to cut, and the skin of your face less fragile. Prepare your shaving foam by loading the brush with soap or shaving cream. Use of products called " shaving preparation " is twofold: it boosts hydration of the hair by removing its fat layer (sebum) and secondly, protects your skin from the aggression of the blade.
 
1/ With shaving soap: Your face is beforehand wet (ideally after a shower), quickly place your brush under warm water and lather the soap inside the bowl (without crushing the hair) until obtaining a thick and creamy lather. Apply it to your face in circular motions for a minute or two, the time to soften and straighten enough the hair from your beard.
2/ With shaving cream: Once your face prepared and the shaving brush moistened with warm water, put a small amount of cream on top of the brush and lather the face for one to two minutes as described above. Some users prefer to file directly a trace of cream on each cheek with the tube, then they emulsify it with the brush.
Техническое обслуживание
---
To maintain the quality of your shaving brush for many years, we recommend rinsing it well after each use to remove all traces of cream or soap and to drain it. Then rub it gently on a towel before putting it upside down было suitable stand.
Shipping
---
Depending on the availability and once your order prepared, delivery, provided by Colissimo, will take on average between 2 and 5 working days, depending on the delivery address. A tracking number of transport "Coliposte" will be sent on your e-mail address.
Product Details
Handle

0

Bristles

Black - Medium

Type de produit

0

Collection

0
Size Guide
of Plisson shaving brushes
With Plexi or Horn handle, we can make up to size 20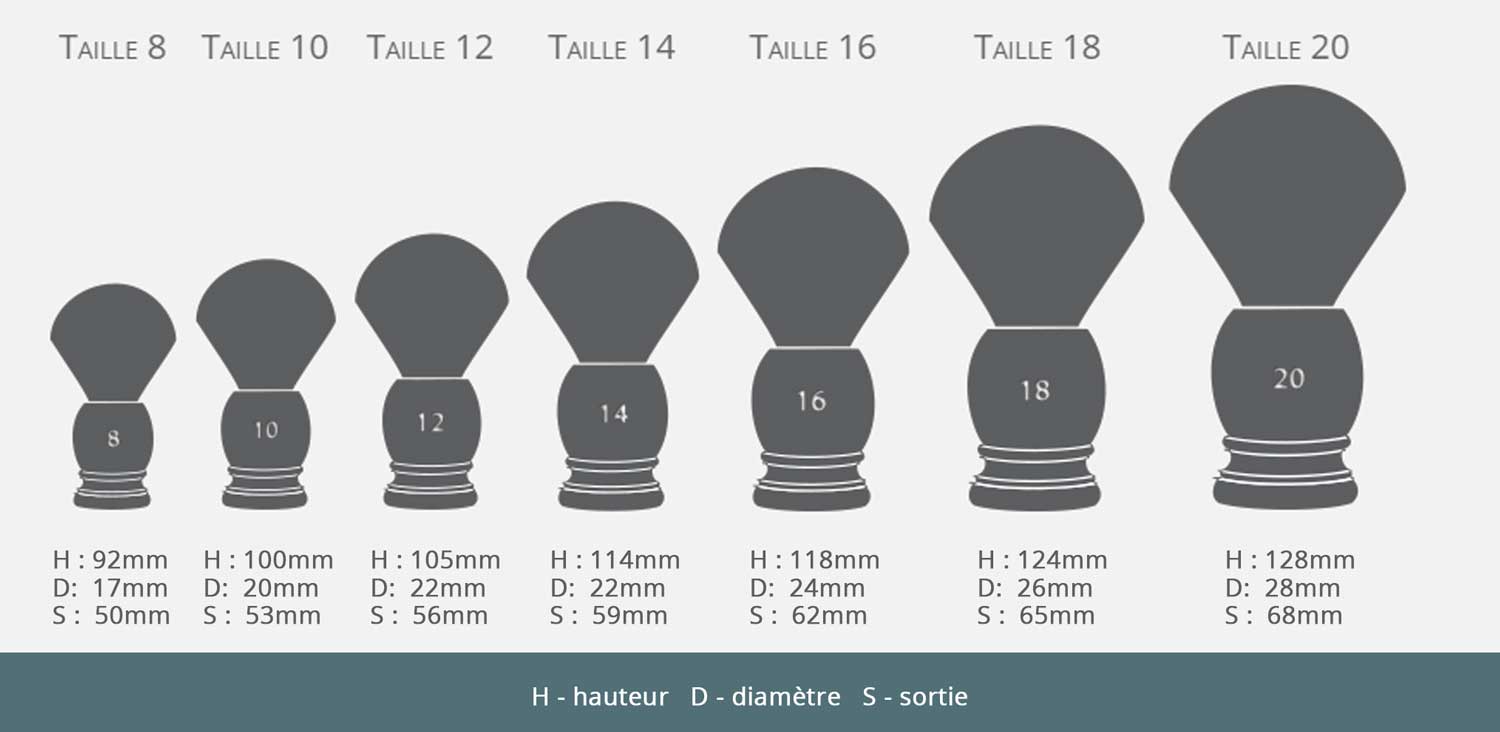 Customers who bought this product also bought: